The Adventures of Priscilla, Queen of the Desert - (1994) - Netflix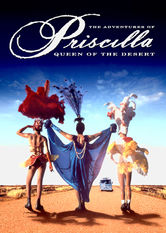 Independent Movies
Invited to perform at a remote Australian casino, two drag queens and transgender Bernadette hit the road in a rickety lavender bus named Priscilla.
Director:

Stephan Elliott

Cast:

Julia Cortez

,

Alan Dargin

,

Joseph Kmet

,

Maria Kmet

,

Leighton Picken

,

Bob Boyce

,

Frank Cornelius

,

Murray Davies

,

June Marie Bennett

,

John Casey

,

Rebel Penfold-Russell

,

Bill Hunter

,

Guy Pearce

,

Hugo Weaving

,

Terence Stamp

Netflix Rating:

3.5/5
Rotten Tomatoes Score:
0/100
Countries Available in:

Not available in your region? Sign up for ExpressVPN to unblock Netflix!

Available Since:
28 Jan 2015
Similar Titles:

Synopsis
Two drag-queens (Anthony/Mitzi and Adam/Felicia) and a transgender woman contract to perform a drag show at a resort in Alice Springs, a resort town in the remote Australian desert. They head west from Sydney aboard their lavender bus, Priscilla. En route, it is discovered that the woman they've contracted with is Anthony's wife. Their bus breaks down, and is repaired by Bob, who travels on with them.
Other Titles Being Viewed Right Now