Trust - (2010) - Netflix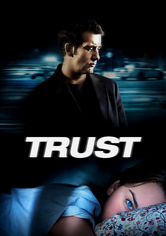 Independent Movies
After a vulnerable teen falls into a trap set by an online sexual predator, her family begins to disintegrate, uncertain how to cope with the tragedy.
Director:

David Schwimmer

Cast:

Noah Emmerich

,

Aislinn DeButch

,

Spencer Curnutt

,

Chris Henry Coffey

,

Viola Davis

,

Jason Clarke

,

Liana Liberato

,

Catherine Keener

,

Clive Owen

Netflix Rating:

3.5/5
Rotten Tomatoes Score:
0/100
Countries Available in:

Not available in your region? Sign up for ExpressVPN to unblock Netflix!

Available Since:
09 Sep 2014
Similar Titles:

Synopsis
A suburban family is torn apart when fourteen-year-old Annie (Liana Liberato) meets her first boyfriend online. After months of communicating via online chat and phone, Annie discovers her friend (Chris Henry Coffey) is not who he originally claimed to be. Shocked into disbelief, her parents (Clive Owen and Catherine Keener) are shattered by their daughter's actions and struggle to support her as she comes to terms with what has happened to her once innocent life.
Other Titles Being Viewed Right Now